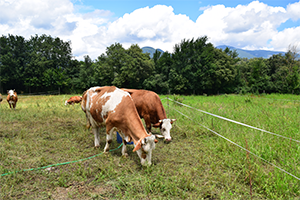 THE POLYFARMING PROJECT PARTICIPATES IN THE 'PASTUCAR' CONFERENCE
The regenerative agriculture is a tool to increase carbon sequestration and soil fertility. This is the concept that Marc Gracia, Polyfarming coordinator and CREAF researcher,  explained during the conference 'PASTUCAR: grazing to preserve carbon in the pastureland (II). An integrative vision of livestock'.
The event took place online and was organized by the the Forest Science and Technology Centre of Catalonia (CTFC) in the framework of the PASTUCAR Project, which is being developed in the framework of the Ministry of Agriculture, Livestock and Food (DARP's) technology transfer demonstration activities. The main objective of the project is to transfer knowledge on good management practices that promote the preservation and accumulation of carbon in pasturelands, as well as soil fertility, biodiversity conservation and mitigation of greenhouse gas emissions. This technical seminar was an opportunity to present the work done by a group of experts at European level related to the relationship between grazing and carbon, including LIFE Polyfarming.