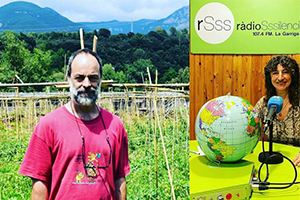 MARC GRÀCIA EXPLAINS POLYFARMING AT THE 'MÓN SOSTENIBLE' RADIO PROGRAM
The Polyfarming project has starred in the 'Món Sostenible' radio program, broadcast on the radio Catalan channel, Ràdio Silenci. Recently, Marc Gràcia, the Life Polyfarming coordinator and researcher at CREAF, spoke there about what regenerative agriculture and livestock are, why it is essential, and how it can contribute to mitigating climate change. One of the things he highlighted was that "the soil is a storehouse of nutrients, water, organic carbon, and life. Regenerative agriculture recovers and cares for the soil's health while managing to produce food sustainably, instead of conventional agriculture that focuses on feeding the plant and impoverishes the land, among other things because they use chemical fertilizers."
The program took place on November 16. You can listen to it (in Catalan) at this link.
MónSOStenible is an online portal disseminating environmental content at a Catalan level, the journalist Míriam Viaplana leads it. The portal also has a section on Ràdio Silenci, named Món Sostenible, Míriam Viaplana presents it, with Carme Melcion. The programs they produce are also broadcast on a dozen other Catalan radio channels.
Image credit: Ràdio Silenci.