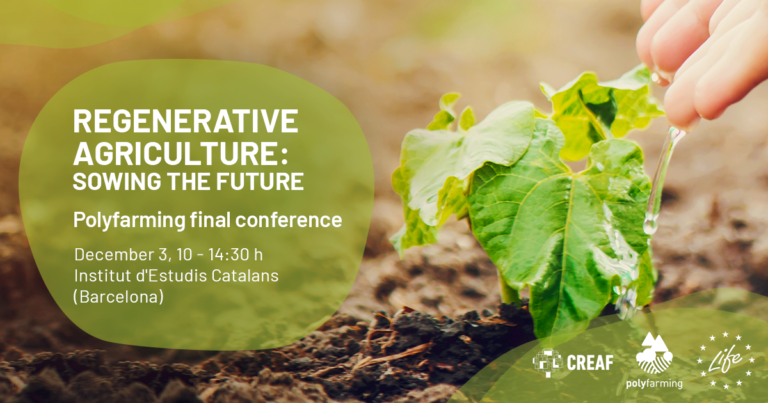 WATCH THE VIDEO OF POLYFARMING'S FINAL CONFERENCE 'REGENERATIVE AGRICULTURE: SOWING THE FUTURE'
Regenerative agriculture is becoming increasingly important as part of the solution to two of our current major challenges: the climate crisis and rural development. The Life Polyfarming regenerative agriculture project led by CREAF, which began in 2016, has obtained promising results that support the idea that the regenerative agri-food model, focused on restoring soil health, is a feasible solution to address these two challenges.
Polyfarming presented its latest results and conclusions on 3 December at the Institut d'Estudis Catalans (Barcelona). But this was not only an event focused on the project, it was also an opportunity to listen to the voices of the organisations that promote the regenerative model from various places and experiences, such as Familia Torres, the AlvelAl Association or the Regenerative Agriculture organisation.
Moreover, it was a space for debate on how regenerative agriculture can be integrated into the current political agenda, what are the future perspectives, challenges and opportunities. With this aim, the conference was attended by relevant political figures in the field of agriculture, ranching, climate change and the demographic challenge, both at Catalan and national level. You can watch the recording (in Spanish).