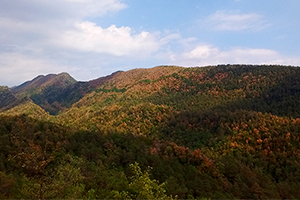 WORKSHOP WITH THE COMMITTEE OF ACTORS OF THE LIFE MIDMACC PROJECT
Proposing new adaptation measures to climate change in marginal mid-mountain areas in La Rioja, Aragon and Catalonia, while improving their socioeconomic development is the main objective of the Life MIDMACC project, funded by the Union's Life program European and coordinated by CREAF.
To carry out the proposal, the leading managers and actors of the territory from various fields (agriculture, livestock, forest management, etc.) are involved in the design, development and evaluation of adaptation measures through committees of regional actors of decision making. Specifically, in Catalonia,  the project collaborates with 24 actors from different sectors, projects and institutions, including Life Polyfarming. The second meeting between collaborators from Catalonia took place online on November 13. At the meeting, the Life MIDMACC team presented the progress of the project throughout its first year, as well as a brief compilation of measures for adaptation to climate change and suggestions for new ones in the field of agriculture, livestock, forest management, among others.
The results of this meeting will be available shortly on the Life MIDMACC website.